I woke up this morning with Max cuddled in the crease of my neck, under my chin. He has changed my life for the better with his quirky little ways. He makes Ben and I laugh every day with the crazy things he does. He is so healthy and happy and I want to thank you one more time for giving me the best gift ever. He means the entire world to me and I am so lucky that he is mine. You are an amazing breeder and so supportive. Thank you, Donna. You really are so special to me.
I just wanted to tell you happy thanksgiving to your and your family.. as i get ready for our dinner, i reflect back on all ... i have lost my entire family except for my son... i have so many wonderful memories of my loved ones to be so thankful for..i also thank God for you, you are truely a special person that not only has changed my life in so many wonderful ways, but so many others also.. there is a special place in heaven for you beautiful lady.. enjoy your holiday
I want to thank you from the very bottom of my heart for Dmitry. He has become an amazing companion and source of much needed constant, unconditional comfort and love in the wake of a back injury that has taken a toll on me.
I have never experienced a creature like him. He's not quite a cat nor a dog, nor a monkey, nor a human but an amazing combination of all of these! Everyone who meets him is astounded at his friendly and outgoing personality.
Cheryl is now waiting her second baby and Dmitry will have a baby brother
Bandit is doing awesome shes such a sweetheart and a trouble maker but its all innocent fun. Shes a wicked cuddle bug and looooooves to play in water anytime she hears the faucet go she runs to it and just stares at the water going down the drain, its the funniest thing. She also follows me EVERYWHERE i go and has to always sleep next to me. If i walk into another room she will cry because she doesnt see me, its the only time i hear her make any noise, shes very quite.
We are living back in Western Mass but when we where living out in the Boston area there where other pets in the house and i feel that shes a bit lonely now so i was considering swinging by the shelter but im worried about getting another pet and having them not get along, i just feel bad leaving her when i go to work even though my family is beyond in love with her and come play with her when im at work. Shes got quite the following.
I cant thank you enough for bringing her into my life and all your help and advice prior to getting her. Best thing to ever happen in my life.
ill have to get a pic of her with her eyes fully open as well for you, her eyes are amazing!
did that other kitten end up looking like bandit? i know you where interested to see how she was going to develop.
sorry for the long email but im just beyond super happy to have her in my life and like i said i cant thank you enough! :
ife!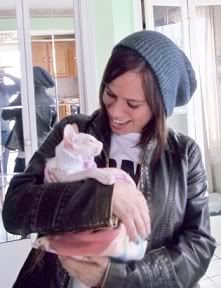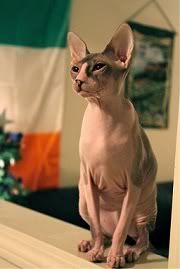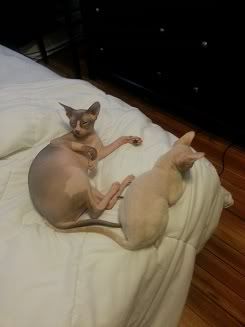 Hi Donna, We celebrated MM's first birthday. We gave her shredded chicken with some plain yogurt as frosting. She loved it. A special treat. She had a great time. I have a few photos for you. She is all grown up now. She is a full 8 pounds and full of energy. She still acts like a kitten. She runs all over the house, loves to play fetch, and loves to attack things that move under covers. She is so sweet and loving. Hope all is well with you. You have amazing kitties!!!Tracy in California
i know u probably hear this all the time.. but this is the truth.. this baby is soo special.. he has brought so much joy into my life in such a short period of time and captivated all that have come in contact with him. love him so damn much, can't wait to see what he does next
"as i have sd before, i have never had a cat with this much personality, intellegence, and the characteristics of a little human.. he is loved so much and i truely feel blesssed that u intrusted one of your babies to me.. thank u"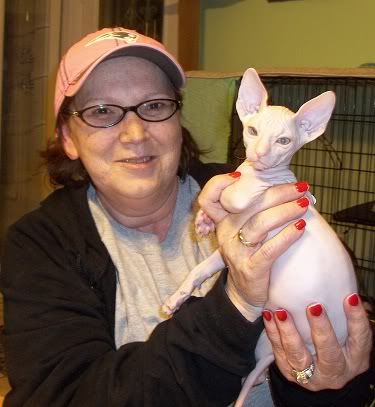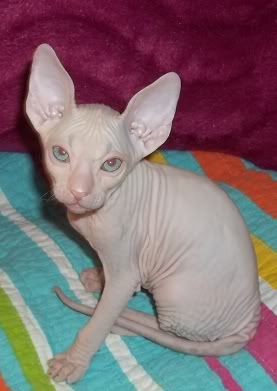 I own two lovely Bengals both of which are approximately 12 years old.......if they ever leave this world I would want one of your cats.....
Just thought I'd drop you a note to say that your cats are beautiful and exhibit a spirit that really resonates with me. Keep up the good breeding!!!!
Regards,
Anita Brady

Dear Donna,
A little movie from the Lady Ipswich and Eden the puppy barzois in love with her....
Halloween is coming soon....we think of you a lot dear....hope the best for you all!!
Many many blessings from the heart!!!
XOXOXO
Fanny and family
y
up!!!.. only reason i am on tonight.. as you know i dont like emailing but wanted to send you some pix and let you know how he is doing. i understand now why you were sad to see him go... i luck out with the coolest hairless cats everytime i get one... he sleeps with me every night and is learning his name pretty well... gives me kisses on the lips and everything!!!... he is great... a little bitty on the shoe laces and what not , but to be expected, of course... he rules... what can i say.. thank you so much donna and glad doing business with ya... i will keep sending pics in the future as cool ones come up... : D
all the best,
adam, jen, and "shuto" from Gardner, Ma.
Hi Donna just wanted to let you know how we are doing. Things here couldn't be better. My husband has decided to name the kitty fluffy. And the name seems to fit her well. She is settling in very well. She is exploring and getting comfortable. She is eating, drinking and going potty just like a good kitty should. She loves to snuggle. Life just couldn't be better!! I want to thank you so very much for everything you have done for us. Thank you again!!! Michelle (Groton, Conn.)
Michelle, Jason, Wyatt and baby Sophie
Thank you Donna,
This has been quite an experience. You are an amazing person...I am so blessed to have gone through this and now the time is coming for these baby girls to come live with me and they will be in my life for the next 15-20 years. Its these moments right now that I will look back on and remember how excited and nervous I was and remember seeing them for the first time. I'm taking time to be in the moment because I know these are moments I will look back on. Thank you for being such a wonderful person and raising such amazing kitties.
Cheers,
Scott (Chicago, Ill.)
Sleekats Ethel and Sleekats Lucy at 11 wks. of age
Hello from Philly-
The boys are doing just fine! They saw their first snow while they sat very cheerfully on the heater.
The battle is on in the house as to who gets to sleep with the boys! I won; I purchased a new electric blanket. They love me best now! I didn't realize it but the blankets comes with automatic shut-off after 10 hours so I just leave it on when I leave for work in the morning.
The boys are so important that I finally got my husband to put heat in their bathroom! You would have laughed-it was never a concern until they took over the house and there wasn't a reason to keep them in the extra bedroom with the litter box. Phil realized it and presto the installer arrived and the boys have the warmest bathroom in the house. It only took 12 years.
I'm hoping to get you photos soon. They have matured! You'll love the connection they have with the dogs. Since I travel on the weekends it's very hard for the pets but hey seemed to figure it out. I have caught Dobby and Avrum sleeping tucked in with the older of the two labs. The dog will entertain Dobby by allowing him to swing on her tail. We are very luckily.
I can't thank you enough for these special boys!
Take care and congratulations on the new babies!
Devra
Thank you SOOO much for the pictures. It is so exciting to see him grow. He is SO cute and handsome! I just love his little brown nose!! I just sent Ed the pics and told him I was sending him pics of his new son.... I think he is more excited than me (if that is possible..lol). You are so wonderful with the pictures and letting the families see their babies getting big. That is the reason why I will only buy my babies from you and that is because you are so kind hearted and you love and care for all your "kids" young and old and you know how excited the families are for these new little ones. I know what you do is not easy and takes a lot of work and I can't thank you enough for being the type of breeder that you are because the love that you give to the babies comes through when we get them home and they have the loving and sweet dispositions that they have thanks to the love and tenderness you give them from the moment they enter this world... Ok... I am getting all weepy now..lol

Big Hugs and thank you for taking the time to send the pics of our handsome boy!! I am showing them all around work once I send this email :)
Their first baby Sleekats Maru a solid Black girl. Now waiting for their second baby a little Pointed boy, Sleekats Chace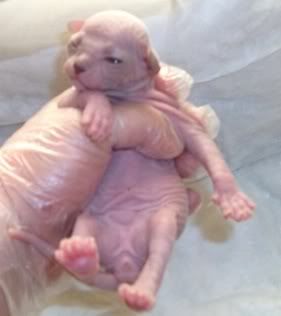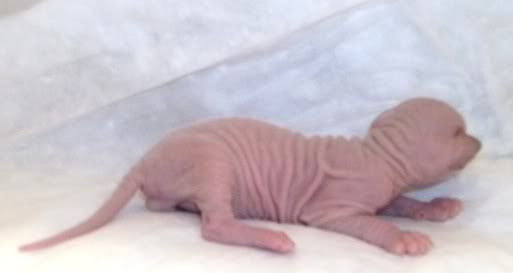 DONNA YOU SHOULD PUT THE PICTURES ON SLEEKATS WEBSITE ON HERE..ON FACE BOOK... i LOVE LOOKING AT THE KITTIES.. MAKES MY DAY A LITTLE BETTER
Sometimes I wish I could be my cat for one rainy day! I love my bald little man.
Kim

Hi Donna,

I just wanted to drop you a quick note to let you know that Maru is doing fantastic...she has settled in nicely to her surroundings and has now taken to hiding in rooms and when you walk down the dark hallway, she jumps out and pounces on your feet and scares the crap out of us!! We just love her to pieces and she is such a joy to have in the house. She is our little princess and she is spoiled rotten. She has even taught Ed how to FETCH!!! I told him it should be the other way around!! Ed will roll her favorite ball across the floor for her to chase but if it goes on the tile floor in the kitchen, she does not want to go get it because the floor is cold so she sits right at the edge of the hardwoods that meet the kitchen tile, looks at him with her little girl eyes and MEOW's pitifully and he jumps right up and gets the ball for her. I swear I saw her smile the other day with a look that said "I have him right where I want him"!!

She has all 3 of us wrapped around her little paw.. she sees Cody as her playmate as he always plays with her, I am her cuddler and snuggler buddy when she is tired or wants love and Ed is her food source/fetch buddy! When Ed makes her food, he heats the chicken up a little in the microwave because he does not think she should have to eat it cold from the fridge (as you can tell she is not too spoiled) so now every time she hears the microwave ding... she thinks its time to eat!!! She hears that ding and I don't care what room she is in... she comes barreling into the kitchen and sits in front of the counter that the microwave sits on and waits! It is too funny!!

I have attached a picture we took of her last night and I think it is especially cute of her. She is beautiful, happy and healthy and we could not ask for more!!

Will be sending many more pics over time so that you can see her grow!

Brenda

Hi Donna,
Thought I would send along an updated photo. These photos make her look so big but she is still so little. She is doing AWESOME! I love her so much. I thought you would get a kick out of hearing about our morning routine; as she is in a little ball near my neck she wakes up purring and then she nibbles on my ear ever so gently and touches my face with her paw. She is just the sweetest little girl. I ended up getting another litter box to transition her to the bathroom and she seems to be using both so that is good. She loves to play and then take a little nap when she is done. Everything is going so well.
Hope all is well with you!
Lynn
Hi Donna,
Thanks so much for the update, you don't know how much I love to hear how he is doing (I will read this email many, many times!) I'm so glad he is doing so well, he is perfect!!! Good luck on transitioning the babies to drinking out of the bowl, and good luck with cattery visits this weekend. I will talk to you soon, can't believe he's almost 7 weeks!!!!!!

Jackie
HI Donna! how are things? I hope things are well! I just wanted to say hi! and send you some pictures of my Baby! He is doing awesome! I love him so much I couldn't picture my life without him! He is always talking to me and sitting on my shoulder! he is super spoiled = )
Becky & Nakita
Hi Donna!

Our little girl is at the vet getting spay as we speak! She is due to be picked up this evening. I will send you the proof this weekend. I know we're doing a good thing for her but both Dan and I were so sad this morning. It's like watching our girl go off to school for the first time. We're such proud parents and she really is a bundle of joy who brings us much happiness. I only hope she is as happy with us as we are with her. One day I hope to bring some more lil kitties into our happy home. Here's to a great weekend! Hope all is well with you and yours.

-Matt
Dear Donna,
We hope the best for all of us in this beginning of the year!
Here everyone is very well....the girls continue to grow up and to be the best kitten ever seen in all the world!!! I am completely in love with them...:0))
Michael is working very hard with a so nice person in Salem who works for him to sale his cd in US....I will send you a link if you want to hear some of his music
and now some pictures of the kitty.....
Many LOVE from all of us!!! Blessings from the Heart!!
Hi Donna, just wanted to let you know
Charles Darwin
is a happy camping purring machine of mischief. :> He's doing really well, gets along with the dog, kids,
crazy house
. He's eating, litterbox, playing, sleeping, etc. all with great enthusiasm.
Just wanted to give you a little update.
Thanks,
Natasha